You can't live in Karachi and not take naashta seriously. With the many breakfast options available in the city, ranging from halwa poori and lachhay dar paratha to scrambled eggs, pancakes and breakfast burgers, you'd be seriously missing out if you ignore arguably the best meal time of the day. Looking for recommendations? Perfect. We have a (growing) list of 17 of the most popular breakfast places in Karachi.
Here are 17 places to have breakfast from in Karachi:
If doing scrambled eggs well is a measure of a good breakfast place, then Test Kitchen deserves to be on top of this list. Of course, when you pair it with artisanal bread and a side of camembert cheese and hot chocolate it takes everything to the next level. And Test Kitchen has perfected the art of doing that with simple ingredients.
The infamous wait to get seated there though continues to be a pain.
However, strictly looking at the menu alone – one of the best places for breakfast in Karachi.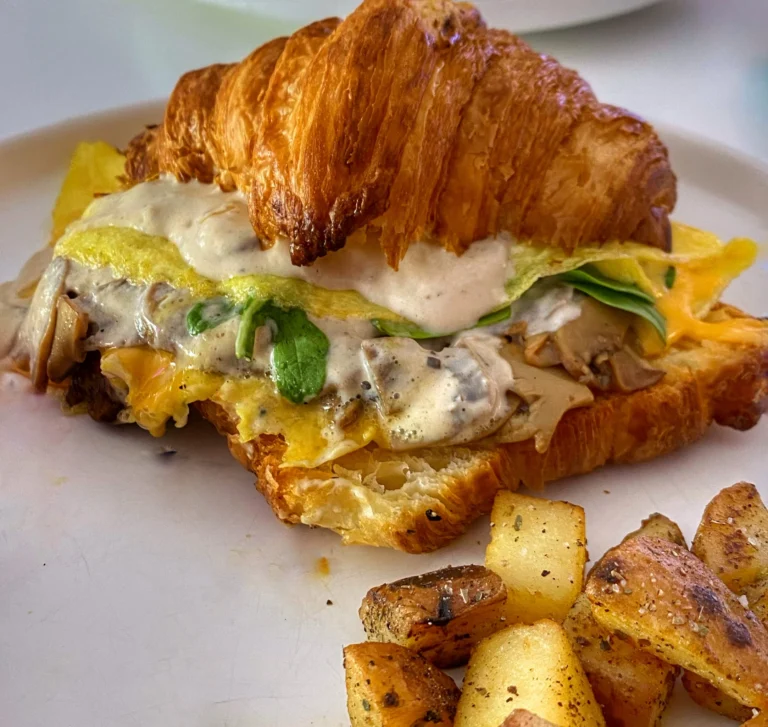 OD or ODonuts as it was earlier called has to be one of the most unexpected places that does good breakfast – after all, it started off with just donuts. However, their range of breakfast items available at their Khayaban e Seher outlet are really impressive! What makes them really stand out is the fact that they get the following things right:
– how they cook the eggs (scrambled or omelette with cheese – both on point)
– their croissants are amazing and work well with their breakfast sandwiches
– they have really unique items in addition to the usual ones – look for the mediterranean eggs on puff pastry with pesto!
– they have both savoury and sweet options – lotus french toast is a fool-proof choice.
– the prices are in accordance with the value they provide so it doesn't feel heavy on the pocket.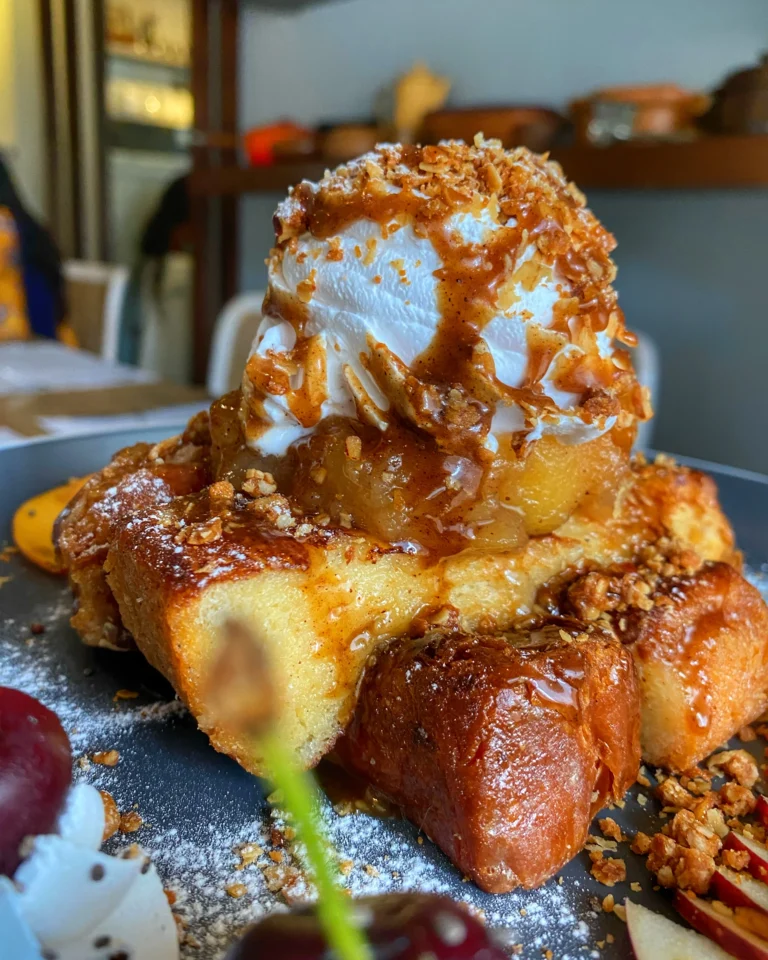 Yum By Amna Cafe has quickly become one of the best breakfast places in Karachi for a number of reasons. Firstly, they open at 8am. Secondly, they get their scrambled eggs right. Thirdly, the number of options are insane. Personally some of our favourite things to order at breakfast include: smoked salmon bagel, breakfast grilled cheese (which has scrambled eggs), their variety of french toasts – particularly, apple pie and churros and their caramelised onions with mushroom omelette.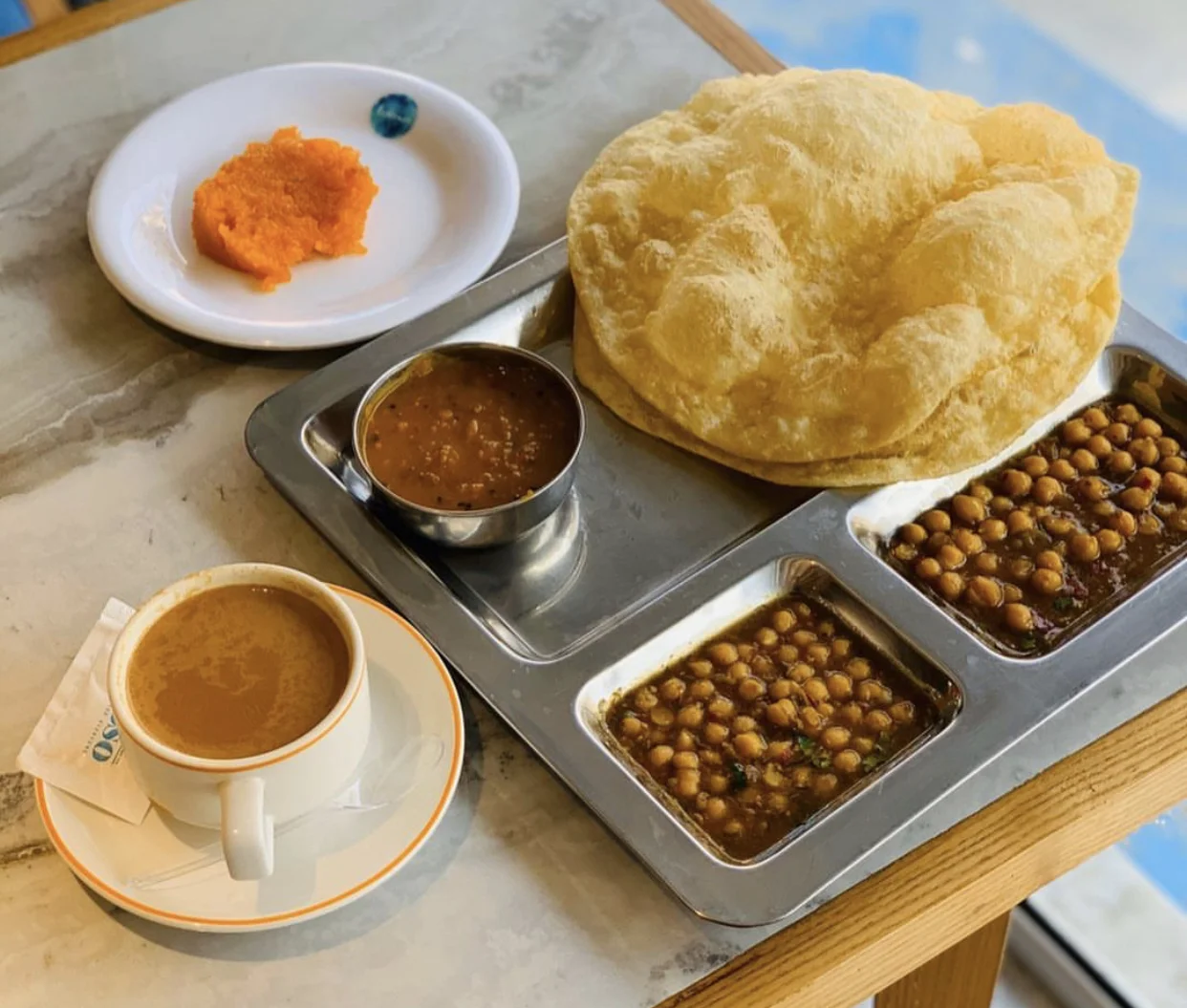 You can't talk about breakfast in Karachi without mentioning halwa poori and even though there are a host of roadside places and dhaabas serving delectable halwa poori, sometimes you need a place to sit indoors with your family and friends and there Tooso makes a really good choice.
They also have anda paratha, bhuna qeema, tawa paratha etc. on the menu.
One of the most buttery scrambled eggs you will have are at FLOC. Their breakfast menu overall also has quite a bit of variety ranging from qeema paratha and shakshuka to scrambled eggs and breakfast bowls. Definitely worth trying!
Mews recently overhauled their menu and recipes – the result? Lots of new things to try from their breakfast menu. We went for the Mews Egg Sandwich, Turkish Eggs and their Ricotta Pancakes. Out of everything, the Mews Egg Sandwich stood our – it had turkey bacon, fluffy eggs, cheese, sour cream and caramelised onions all sandwiched in soft milk buns.
The new recipes look promising – are not quite up there yet but a solid 8/10.
We recently tried out Cafe Chatterbox for breakfast and let's just say we are glad the place has persisted. The spinach baked eggs were flavourful, well-seasoned, garlicky and topped with parmesan cheese. Based on this alone we think everything else on their breakfast menu would also be promising.
The pancakes though were dry and rubbery – so avoid those.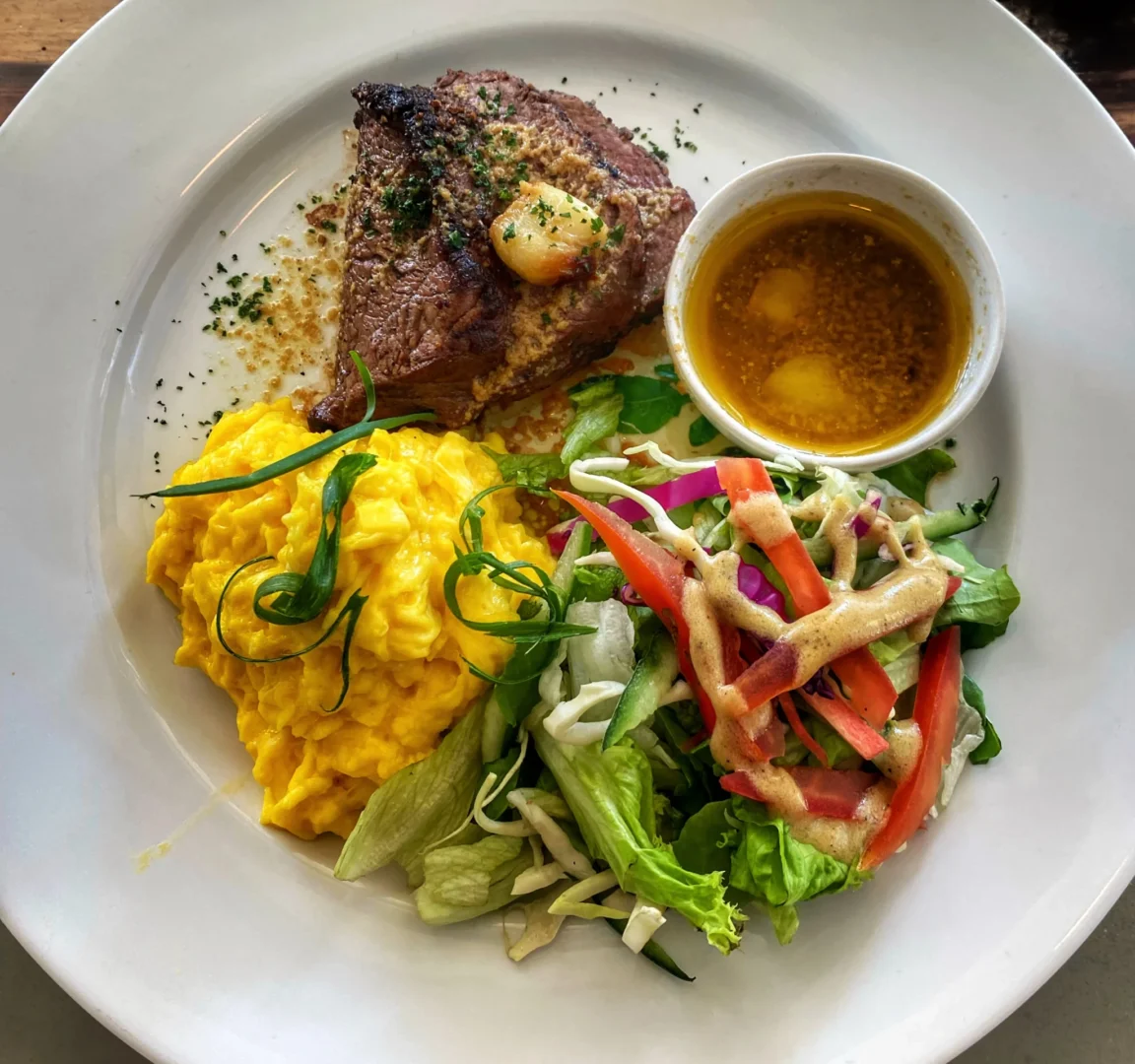 Evergreen created a space for itself in the "healthy eating" niche when there were hardly any options, especially for breakfast in Karachi. Right now their menu offers customisations so that you can enjoy food that is vegetarian, gluten-free, keto-friendly or calorie-counted etc. Regardless, they have quite a few things on their menu that you'd be able to enjoy whether you are calorie counting or not.
Some of our favourites are:
– Steak & Eggs (ask for scrambled eggs instead of fried eggs). It is served with this garlic butter that is amazing. The steak is seasoned well, though at a medium it could be a little less tough. Delicious though.
– The Choco Oatmeal Pancakes served with maple syrup and ricotta. It's not a Lotus pancakes obviously but once you get used to it, it's actually pretty good.
– The Ottoman Bowl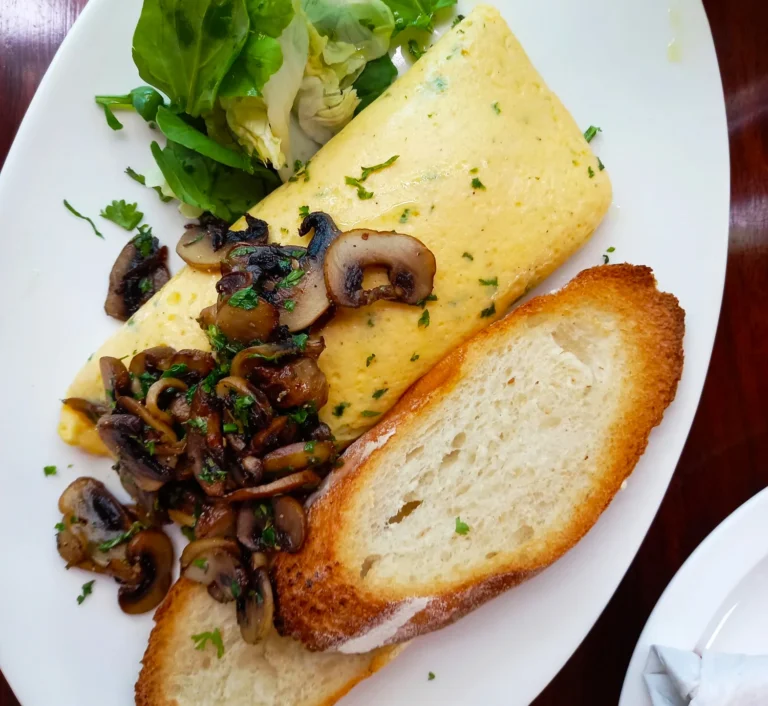 Cote Rotie is located within the premises of Alliance Francaise and has its menu modelled around French cuisine. When you walk in, you immediately notice the art on the wall, its rustic interior and the sunlight coming through. For breakfast, their french toast with caramelised bananas is a unanimous recommendation. However, they also have cacio pepe scrambled eggs, truffled eggs, gruyere tartine and an omelette souffle et piperade if you want to steer away from the expected path.
The catch? They open at 12PM, which is noon. So instead of breakfast, you could say it's a good place to brunch.
Xander's is obviously a popular option for breakfast. They have a range of options, starting from The Fully Monty to Scandinavian Scrambled Eggs. However, one does feel the breakfast menu hasn't gotten any new updates in a while and there aren't many options to choose from if you want something other than eggs. It's still a very popular choice.
A New Addition to Breakfast Places In Karachi
Siroc claims it does middle-eastern "fusion" food. It is not trying to be authentic, though it does offer solace if you have been really craving hummus and shish taouk from your recent travels. it's one of the newest places to introduce a breakfast menu and while we are not big fans of their food, we were really excited to try something different at breakfast from the usual omelettes and eggs benedict options in the city.
One of their main pushes at breakfast is this platter called Morning Carnival. You get to pick your eggs, 6 sidelines (which can include hummus, moutabbal, feta cheese, roasted garlic etc.) and bread and it is meant to serve 2 people.  
If you are looking for something interesting to try, possibly a sampler of various flavour notes then definitely try the Breakfast Platter at Siroc. It is priced at Rs. 1,595 +tax (for two).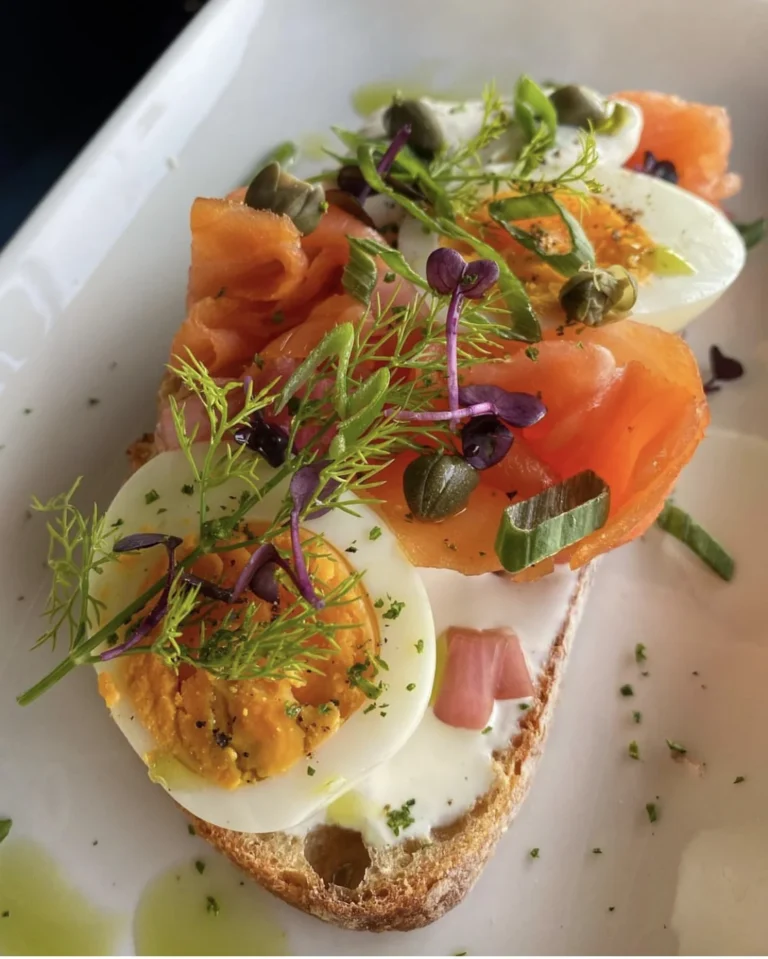 The Springs Cafe (located above Springs Store in Khayaban e Bukhari) also does breakfast. It is also a great place to work out of and it opens early. However, in terms of the food, their dessert options at breakfast are far superior to the savoury ones.
What we really liked from their breakfast menu: The Lotus Souffle French Toast. If we ever make a list of best french toasts you can have in the city, it will definitely be on it.
What we didn't like and this was a bummer were the scrambled eggs. 
Even though N'ecos doesn't make it to "lists" anymore, we wanted to feature it for the fact that they seem to offer a lot of customisation, which is great for people who are on a specific diet or follow dietary restrictions for health reasons. They have keto options, vegetarian options, gluten-free breads and plant-based milk.
The breakfast menu at Paul is basic, but that's not entirely a bad thing. Only a bad thing if you are looking for something extraordinary and in that case, please refer to places that are a bit higher on this list. However, it does a decent omelette, bread, french toast and coffee. We don't mean this in a judgemental way but it reminds us of food options available at airports. 
Prraha, when it opened, really created waves with its lotus pancakes and french toasts and while everyone loves to hate on this particular cookie spread, their sales data will probably show that it is still popular enough to keep the crowd coming. Their savoury breakfast options aren't the best and it's not what you go to Prraha for, so just keep that in mind.
Espresso is on the list for the nostalgia, y'all. While their breakfast isn't extraordinary, it has stayed pretty constant over the years and a lot of people opt to go there for a sense of familiarity. You probably go to Espresso to sit at leisure or to munch on something while you are working or taking a meeting. The menu includes your usual omelettes, scrambled eggs, waffles and pancakes and that's about it. 
The breakfast menu at Colette offers solid value but not in terms of its uniqueness. If you are looking for the usual omelettes, pancakes and egg platters you won't be disappointed but you won't be wowed either.
Bad Egg is the newest breakfast place on the block and it has Korean style "Egg Drop" sandwiches on the menu. They usually feature scrambled eggs, cheese, sauces, herbs sandwiched between slices of brioche bread. Personally, we liked the concept though the recipes could be improved upon. Worth trying once for sure.
Here were some places where you can have breakfast in Karachi. Did we miss out on any? Let us know below and also tell us your favourite breakfast place.