In true Karachi fashion, the taco scene in the city has exploded with different food trucks offering this bite-sized street food, of course with different toppings and variations. While some food trucks have made their indulgent cheese topping their USP, others are banking on their prices. If you ask us, however, there is only ONE place you need to go have tacos in Karachi and that is Adobo.
Here are 3 things we recommend you order at Adobo, starting with tacos of course.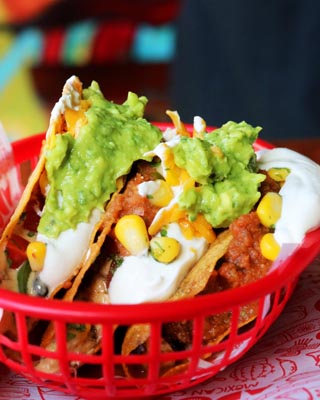 While the good thing about Adobo is that it lets you assemble your taco however you like, if you are trying it for the first time, the following choices will give you a fool-proof and flavourful taco.

Here is what you order: Crunchy Tacos + Your Choice of Meat + Fajita + Corn + Sour Cream + Mild Salsa + Hot Salsa + Queso + Guac
Skip: the lettuce, the shredded cheese and beans are also strictly optional.
The queso at Adobo deserves its own fan following and which is what compels us to skip the "shredded cheese" from the topping options because in the face of that excellent cheese sauce, it is not needed. The sour cream adds that delightful tang and brightness to the taco while the guac brings in the creaminess. The fajita cuts the meatiness of the taco and in our opinion, makes the lettuce unnecessary. Oh and the mild and hot salsa together is a great insider hack which we discovered while on a photography assignment at the outlet.
Prices: Rs 780 to Rs 870 for 3 tacos, depending on your choice of meat. Queso and Guac are charged separately in addition but worth it.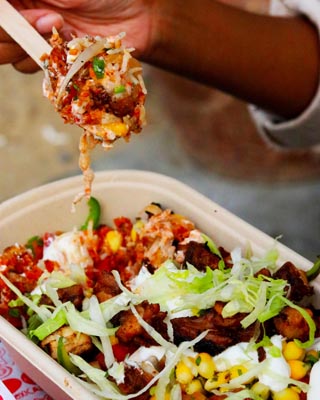 Any dish with meat and rice gets us going because Karachi is the city of biryani, the dish that arguably perfected the meat and rice combo. The chicken burrito bowl at Adobo honours the combo the way it deserves. It has cilantro lime rice topped with your choice of meat – can be chicken, steak or minced meat and then lets you order different toppings.
Here is how we like to assemble our burrito bowl and if you are trying it for the first time or need to try a combo different from your own, go for this:
Order: Cilantro Rice (White) + Chicken + Fajita + Corn + Sour Cream + Hot Salsa + Mild Salsa + Beans + Queso
Skip: Lettuce again (sorry) + Guac (not needed with the flavours already present in the bowl) + Shredded Cheese (because we are already putting in Queso)
Price: Rs 780 to Rs 870, depending on the choice of meat. Queso and guac are charged separately, in addition.
You won't be disappointed.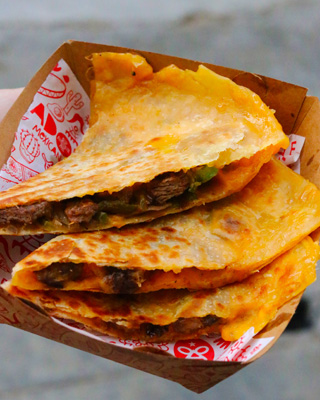 If you are already ordering tacos and burrito bowl, which we highly recommend you do – their appetisers (chips) and nachos would just be duplication of the same. What would be an excellent additional order though (we hope you are in a large group for this or REALLY hungry), is the quesadillas.
A quesadilla is a Mexican dish, consisting of tortilla that is typically filled with cheese, meat and veggies. You get the full range of Adobo toppings to choose from, so just go for whatever you are craving more.
Price: Rs 870 to Rs 990, depending on the choice of meat.
There you go! Let us know what you think when you try. See you in the next food guide.