At HungryInKarachi, we consider someone saying, "I like my hot chocolate milky" a red flag. If it's a hot chocolate, it better have actual chocolate and you must be able to taste it, or just have a glass of milk? Anyway, with that in mind, we set out to try hot chocolate from most (ALL?) of the places that offer it in Karachi and we have a list breaking it down for you. You're welcome.
Reviewing Hot Chocolate From 8 Places In Karachi
This list is for people, who like us love a good intense hot chocolate.
1.

Peanut Butter Hot Chocolate
FLOC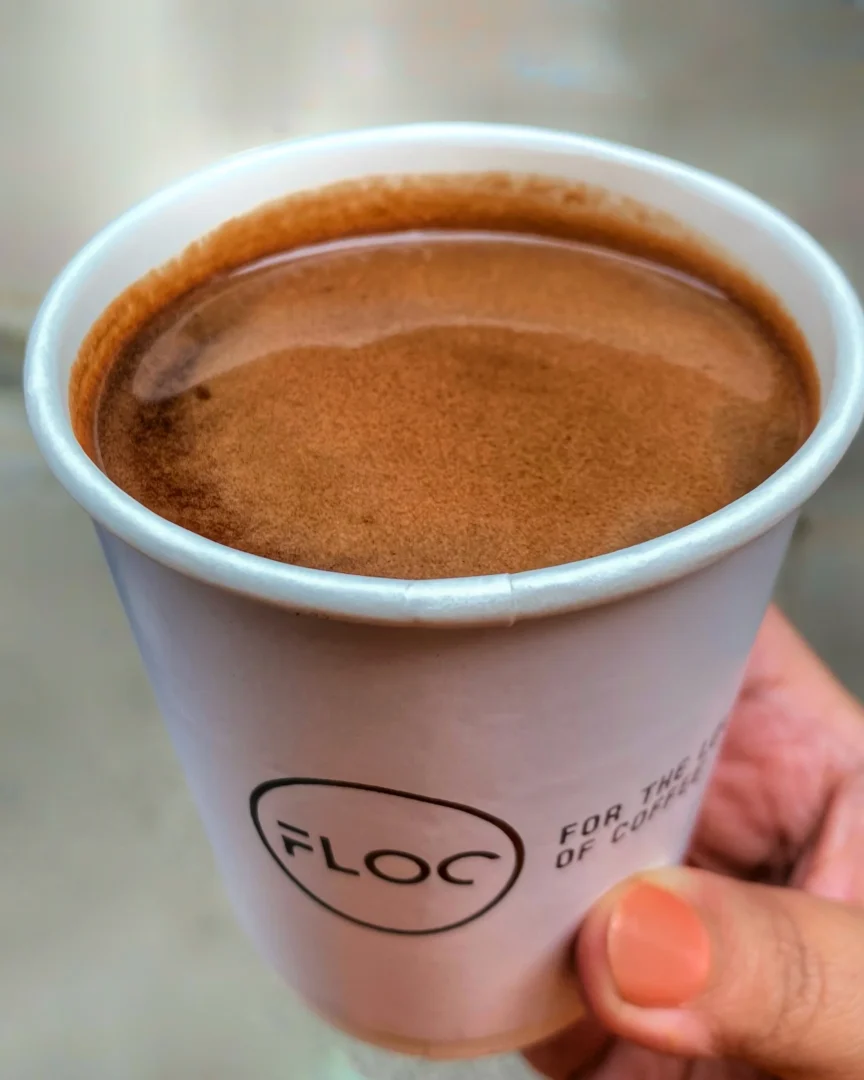 It is perfectly reasonable to have a different favourite hot chocolate every year – after all, tastes evolve right? and nobody likes monotony. At least, we don't.
We started off our hot chocolate run a few years ago and at the time we just loved an intense cup of melted dark chocolate. Over time and this year specifically, we STILL prefer our hot chocolate to be rich and intense (without there an over-supply of corn flour), but we also want there to be a flavour note elevating it.
The Peanut Butter Hot Chocolate at FLOC does exactly that. The chocolate is rich (without it being over-sweet or so thick that it makes drinking impossible) and the peanut butter fits the hot chocolate recipe like a glove – as if hot chocolate was always meant to be had that way.
Our favourite hot chocolate of 2023 in Karachi is – Peanut Butter Hot Chocolate at FLOC.
Where: FLOC, at Khayaban e Nishat
Price: Rs. 595
2.

Hot Chocolate
Marya's Cafe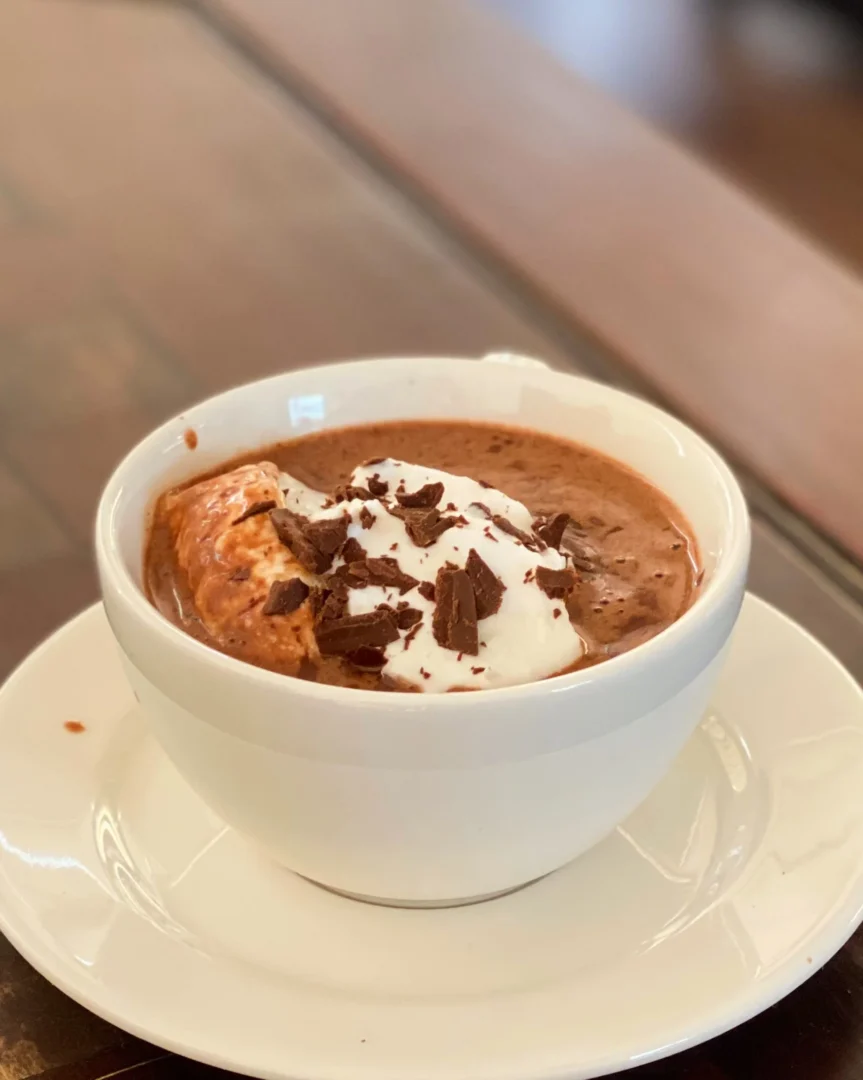 This is a hot chocolate we can have everyday. The only catch: have it without the whipped cream to really enjoy the richness of the drink. Chocolate notes come through but without being overly sweet. This is going to be our staple this season.
Where: Marya's Cafe, at Phase 8
3.

Hot Chocolate with Marshmallow Fluff By Bingsu
If intensity is the criteria, Bingsu has to be in the list. It is literally like drinking chocolate. You taste it in every sip. BUT that's not all. There is marshmallow fluff on top and not only does it amp the richness, it also adds drama because when it melts, you get this beautiful marshmallow pull mixed with hot chocolate. Incredibly satisfying. 
Our only caveat? They need better-looking takeaway cups and they need to start delivering!
Where: Bingsu, at Khayaban e Nishat

4.

Classic Hot Chocolate by Test Kitchen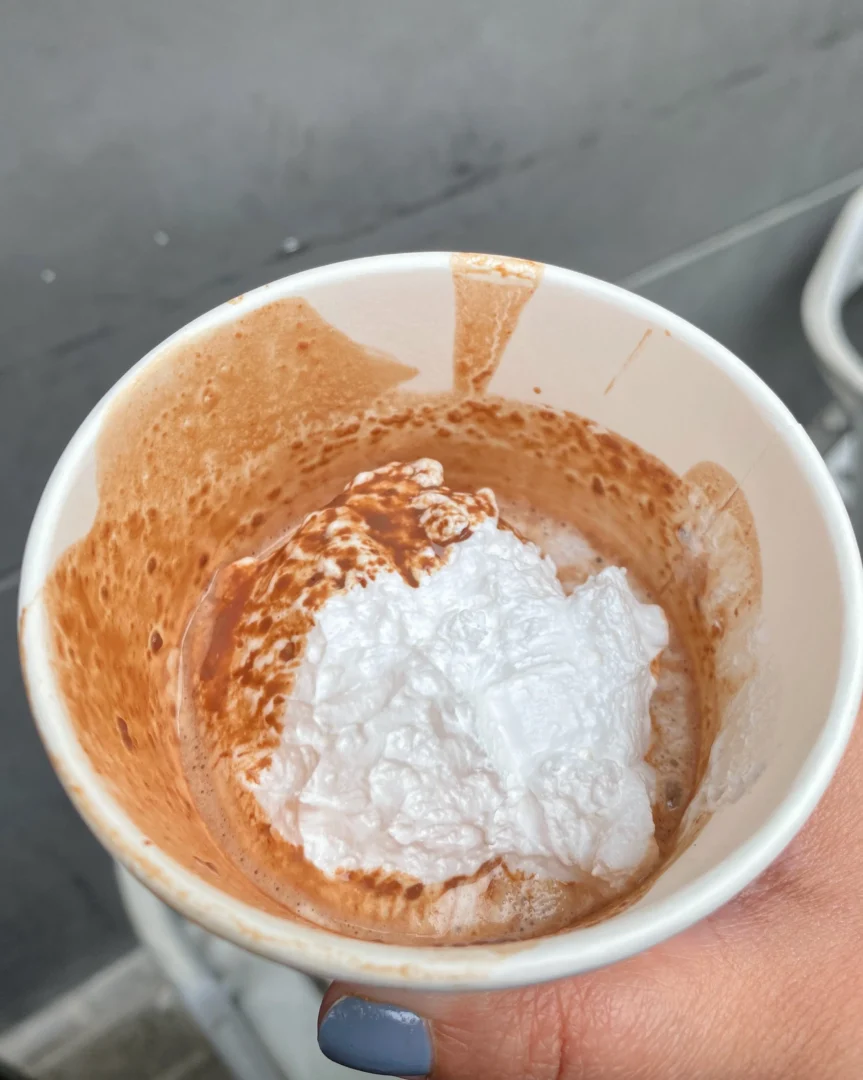 Test Kitchen, the place known to keep it simple and yet delicious by just riffing on ingredients – how can they not do a good hot chocolate? So of course, they do. The hot chocolate here is smoother, with a little more milk and a little less sugar. It is still rich in chocolate flavour notes, don't get us wrong, just in a slightly more restrained way. If Bingsu is the hot chocolate every kid wants, Test Kitchen's is the one that all parents do.
We will take both (with an almond croissant).
Where: Test Kitchen, Zamzama
5.

Hot Chocolate by
Cosmo Gelato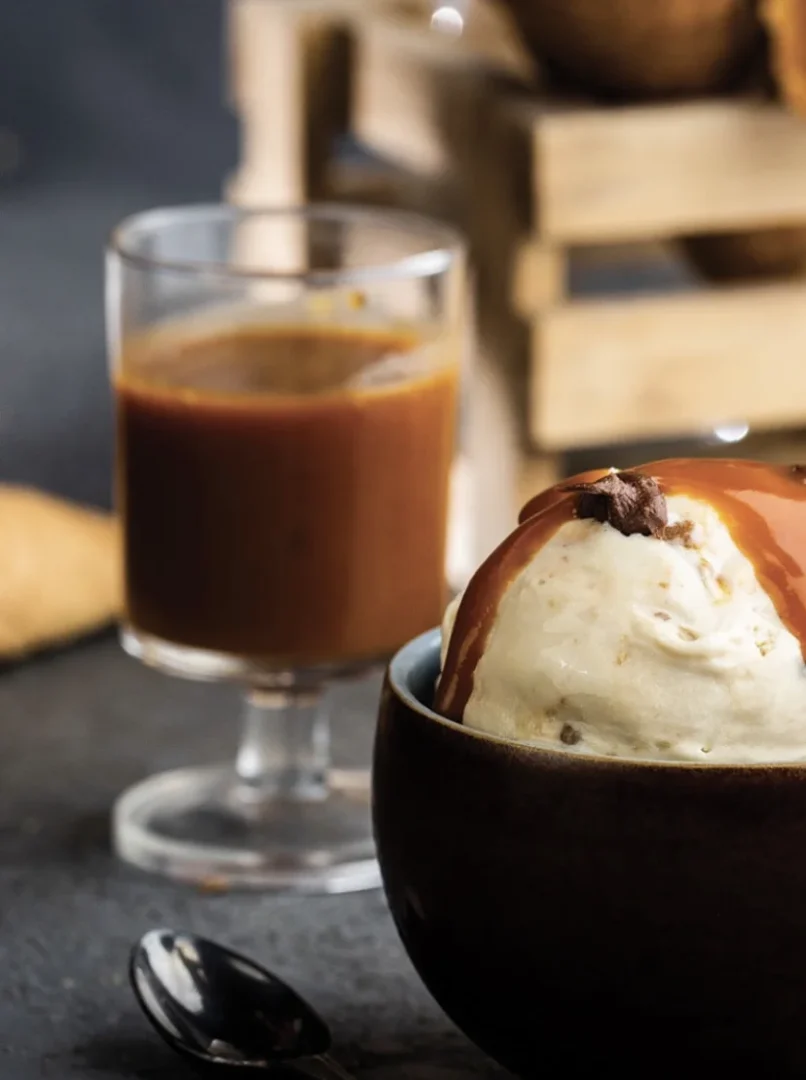 This hot chocolate is an under-dog. Totally did not expect a solid hot chocolate to come out of Cosmo Gelato – a brand that has closed quite a few of its outlets in Karachi. However, oh my God – this chocolate is rich, delivers on that velvety hot chocolate texture (instead of being diluted) and the FLAVOUR. It's hug in a mug. 
Where: Cosmo Gelato, at Sea View.
6.

Mexican Hot Chocolate by Basic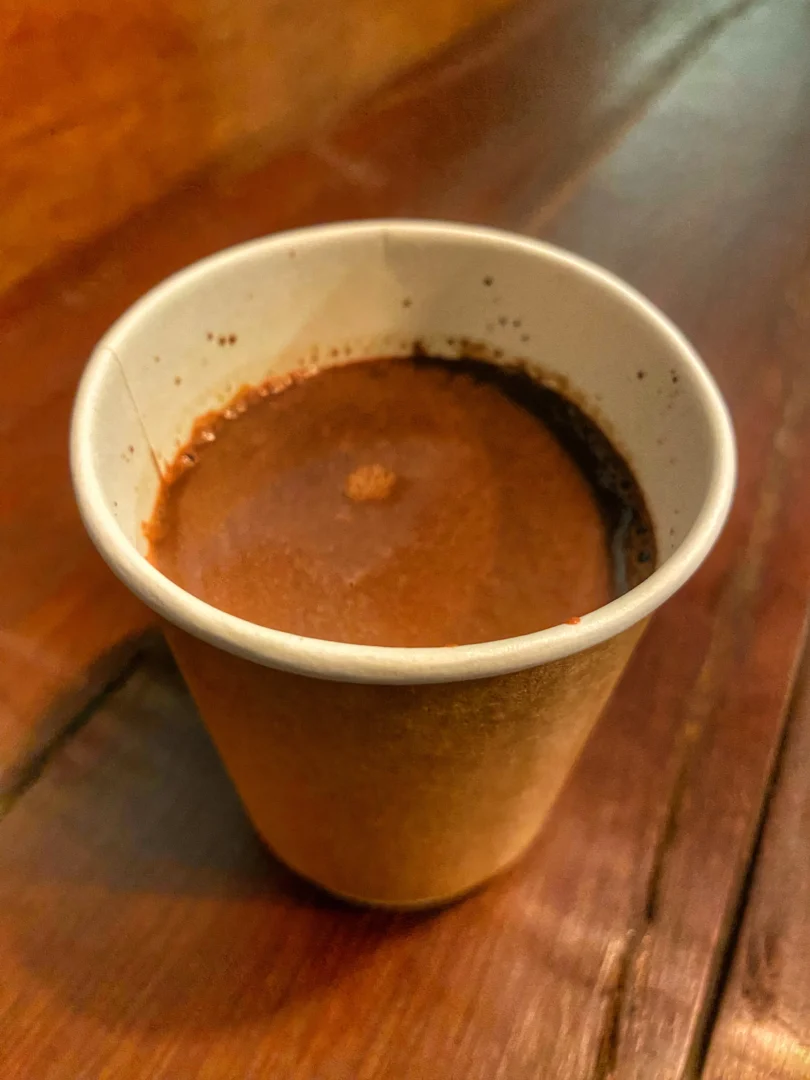 The hot chocolate at Basic has so much sass. You expect the beverage to be one-note and sweet and this is anything but. The one at Basic will remind you of fall in winters. It has cloves, cinnamon and maybe even a hint of paprika. It is like masala chai but hot chocolate, ykwim? One of our personal favourites.
Where: Basic, at Khayaban e Ittehad.
Price: Rs. 450 (including tax)
7.

Caramel Hot Chocolate
Butler's Chocolate Cafe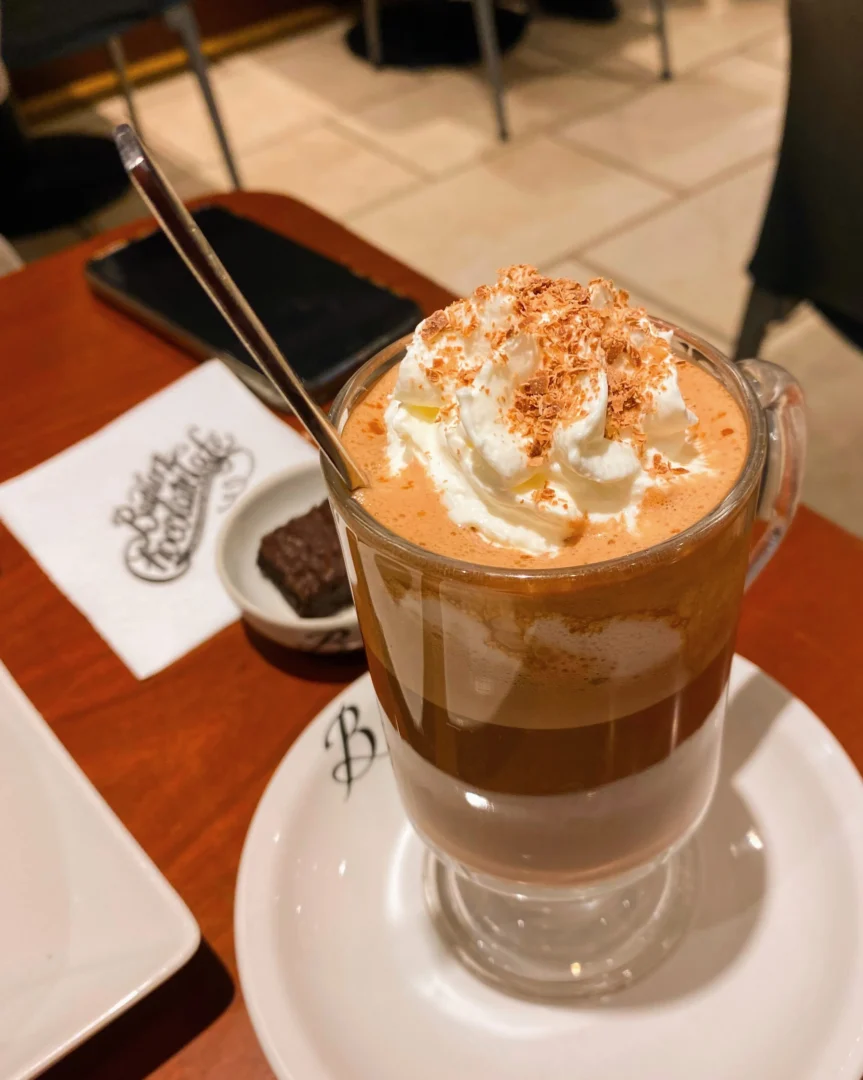 The hot chocolate at Butler's Chocolate Cafe are decent. The flavour notes that come through are chocolate and not corn flour, thank God. They have a nice range of flavours. We liked the caramel and mint. Not super rich in chocolate but works.
Where: Butler's Chocolate Cafe, Zamzama or Dolmen Mall
The Not Very Intense Kind Of Hot Chocolate
8.
Ferrero Hot Chocolate By Espresso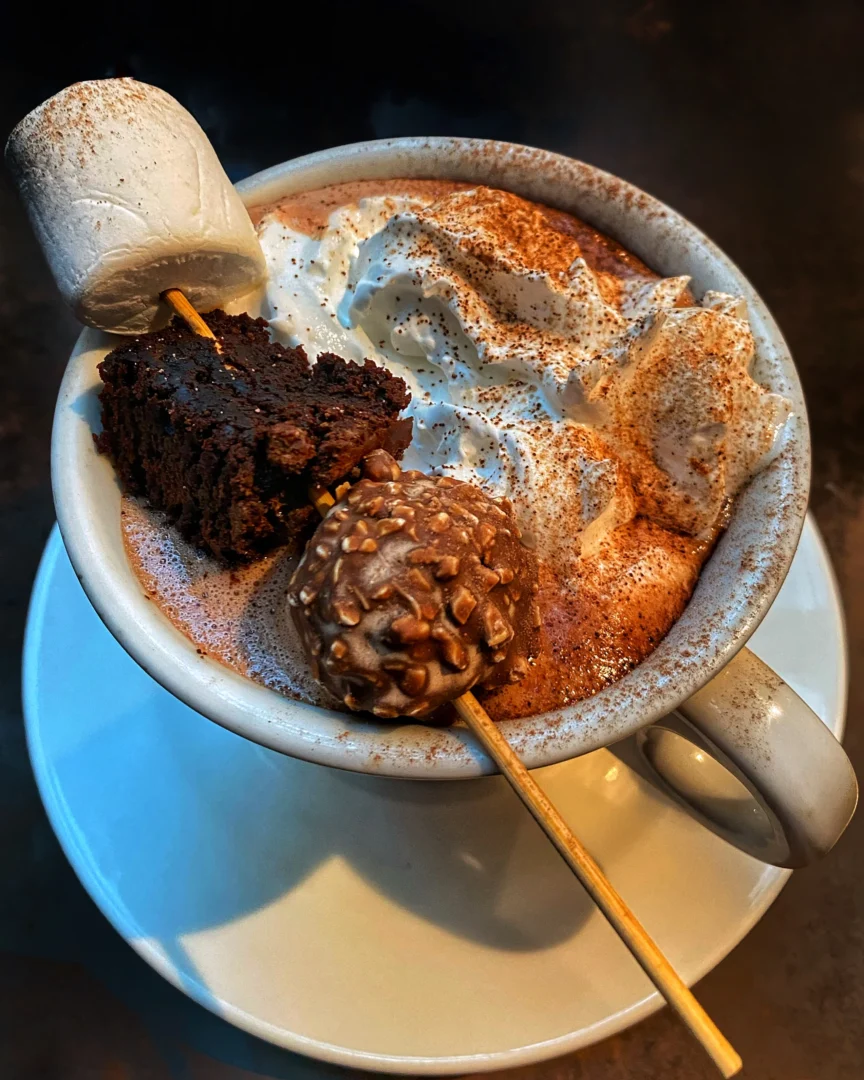 Comments about the hot chocolate itself later but can we talk about the presentation. We are sorry but this looks like a whole lotta yes to us. Ferrero Rocher, mini brownie and a marshmallow. Wait and whipped cream? Damn, espresso. You brought out the big guns.
Anyway, as expected from the name of the list, this isn't your melted chocolate type hot chocolate. It is foamy, it is frothy and yes it has more milk content than we like but is it bad? Not at all.
Also the cool whipped cream on top makes it seem like you are sipping on ice cream with hot chocolate. We really liked that!
Where: Espresso (Tipu Sultan, Khayaban e Shahbaz, Dolmen Mall, Clifton)
Price: Rs. 695 + tax
Shoutout to Kinza Shamim for alerting us to this hot chocolate in Karachi.
9.
Prraha Special Hot Chocolate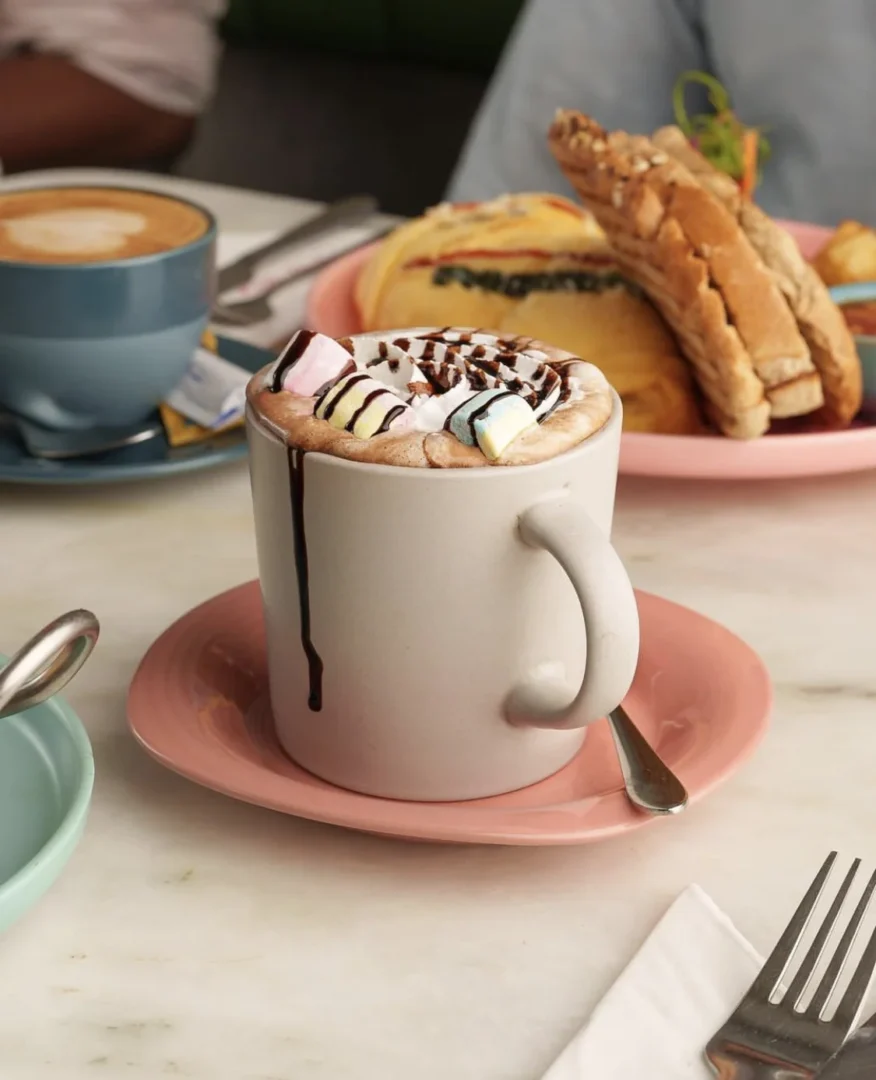 Prraha's hot chocolate also exists on this fine line where if it was a tad bit milkier it'd be bad, but it isn't. It's just for people who want their hot chocolate to be a balance of milk and chocolate and whipped cream and marshmallows. Not bad for a hot chocolate in Karachi, overall.
Where: Caffe Praha
Price: Rs. 595 + tax
10.
Matcha Hot Chocolate
Matcha Tea House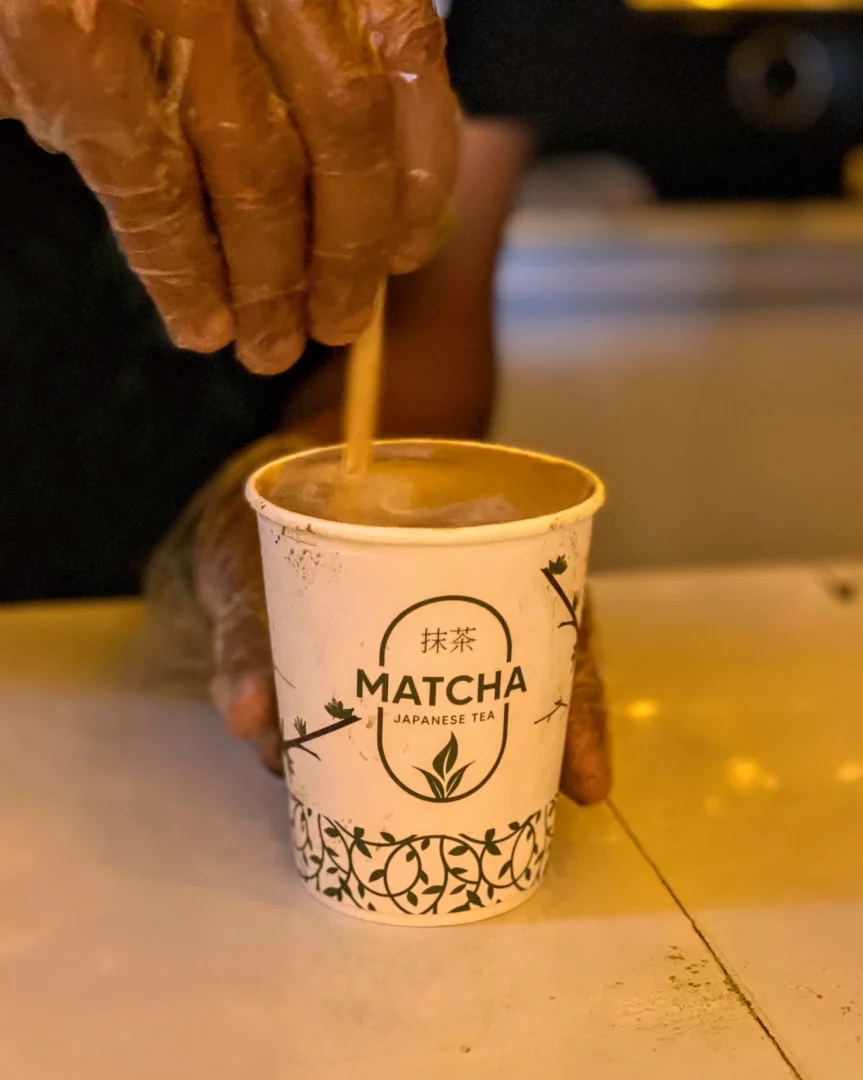 We personally did not like this at all but I guess, point for trying? This is a matcha and a milky hot chocolate concoction – adding this to the list incase it's someone's cup of tea.
The Hot Chocolates That Could Be Called Milo
The hot chocolate in the following places is just meh. There is no kick of flavour, no body in texture, no richness in chocolate. It just exists. At some places, it is even powdery and grainy.
Some of the places below do really good food but just not hot chocolate.
1. Drop Coffee
2. Paul
3. Evergreen
4. Esquire's
5. Kohi
6. The Coffee Bean & Tea Leaf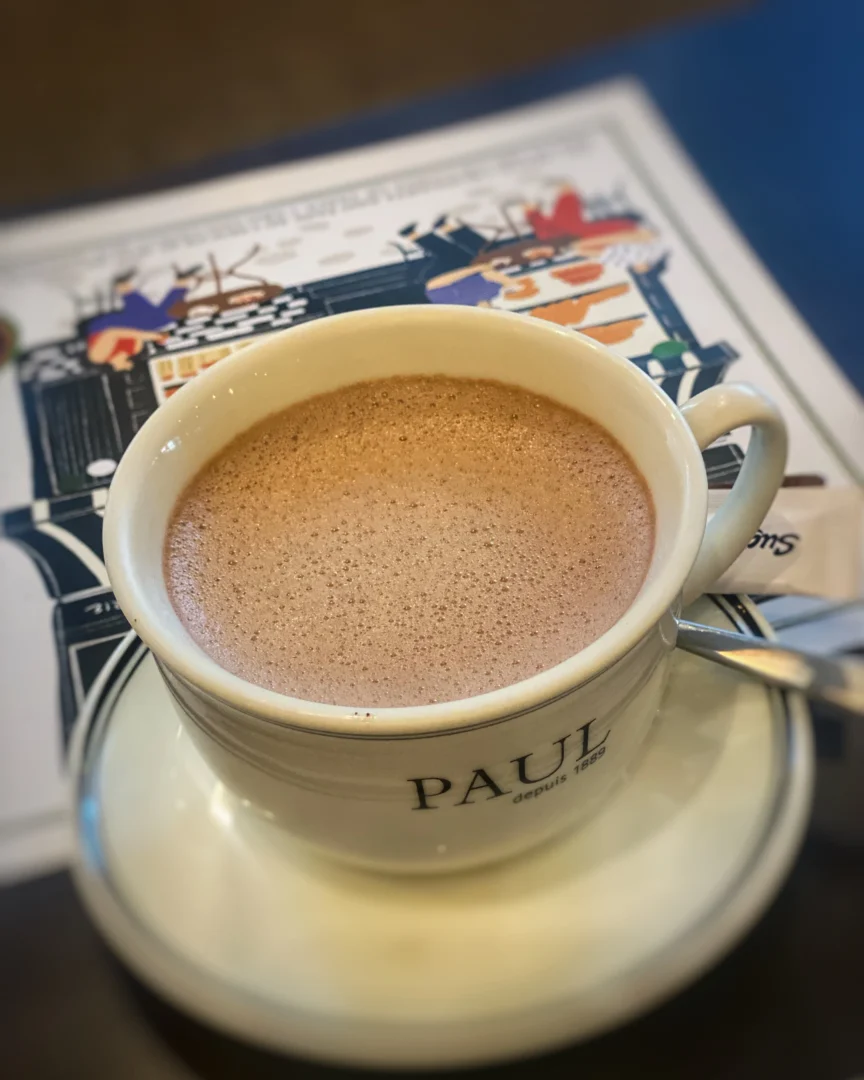 We can kind of see that it is mostly coffee places that don't really want to make hot chocolate a certain way but oh well.
Finally made it to the end of the "hot chocolate in Karachi" list. Let us know your top hot chocolate favourites, misses or adventures below!
To check out more food guides, click here