A good khousuey in Karachi is slightly tricky to find. Because of the various components that go into making one, there aren't many places that are able to keep the consistency or the excitement that a good khousuey bowl can embody. For that reason, the following list leans heavily towards home cooks because the khousuey is made to order and allows for each component to be made fresh.
Having said that, this is a growing list (we hope) as we continue to try more khousuey options in the city.
The Places With The Best KhouSuey In Karachi
1.

Khousuey by
Farwah Halai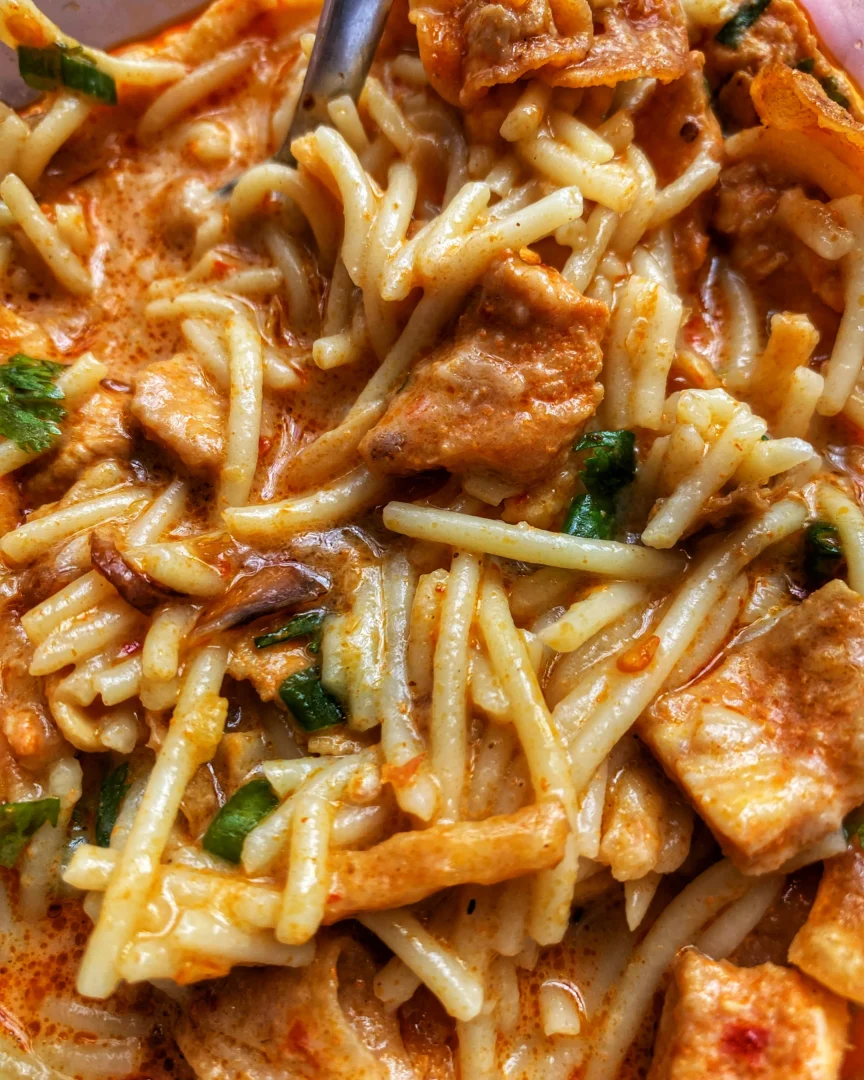 There is much to like about this ready-to-eat khousuey bowl by Farwah Halai. All the condiments (except for the crisps) come already mixed in and while we love assembling a bowl of khousuey, this ready to eat bowl ensures that you'd always end up with a good tasting one.
The condiments are some of our favourites: the chilli crisp, caramelised onions, green onions and then of course the usual crisps.
Also really good is the balance of flavour between the chicken and the yellow curry. You'd appreciate this regardless of the kind of khousuey you prefer (the memoni style or burmese).
We are salivating as we are writing about it because it really is so good.
Get some from their instagram at instagram.com/farwahhalai or WhatsApp on 0333 3383375.
Price: Rs 1050 (including delivery charges)
2.

Khousuey By

Shaireen's Kitchen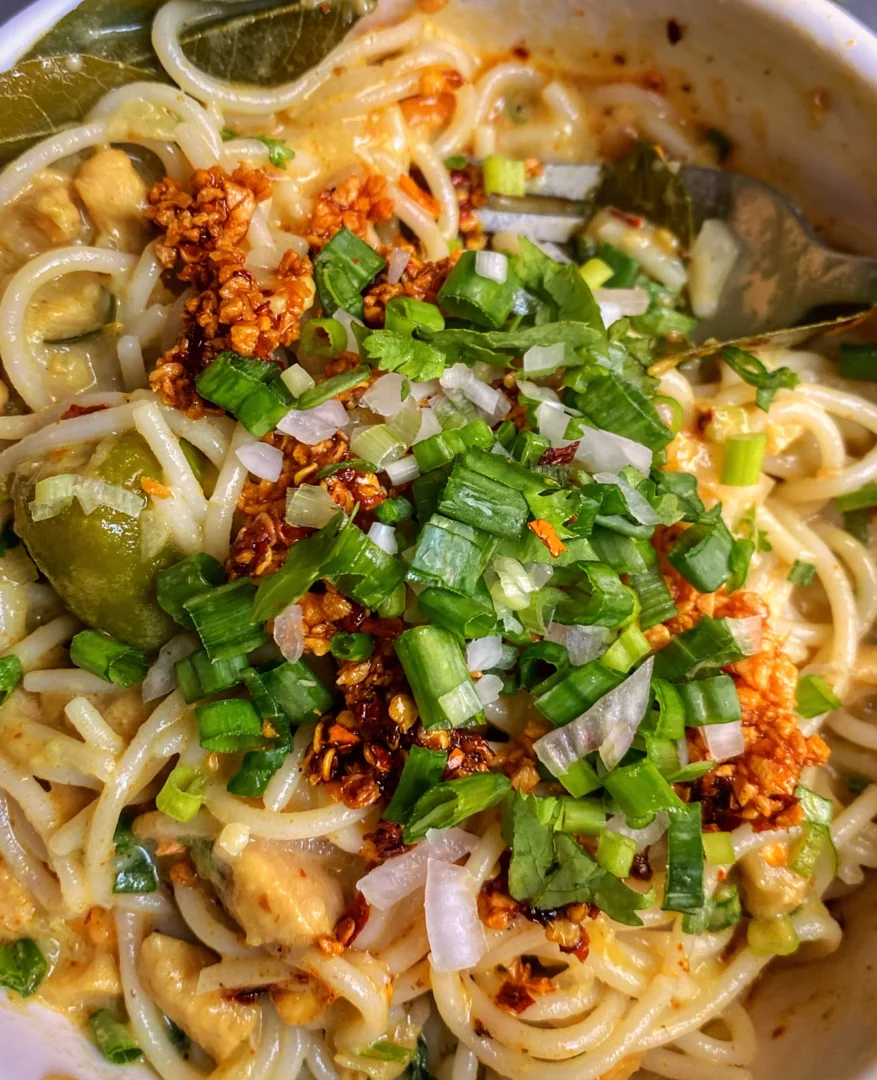 One of our pet peeves with khousuey options available in Karachi is when the curry itself is bland and you have to top the khousuey with lots of condiments to give it flavour. Sometimes the curry just ends up tasting like pakora batter – or besan and you wonder how you are going to eat THAT.
However, Shaireen's Kitchen khousuey impressed us with its flavourful curry. Even though it is not coconut milk based or atleast the flavour doesn't really come across, it is flavouful and has a spice kick that makes it delicious. And then, when you add in the condiments it really takes the khousuey to the next level.
This khou-suey is also a must try.
Get some from their instagram at instagram.com/shaireens_kitchen or WhatsApp on 0306 2211418.
Price: Rs 800 + Rs 250 (delivery charges – can vary with area)
3.

Khousuey By

Saira Faruqi - PepperLime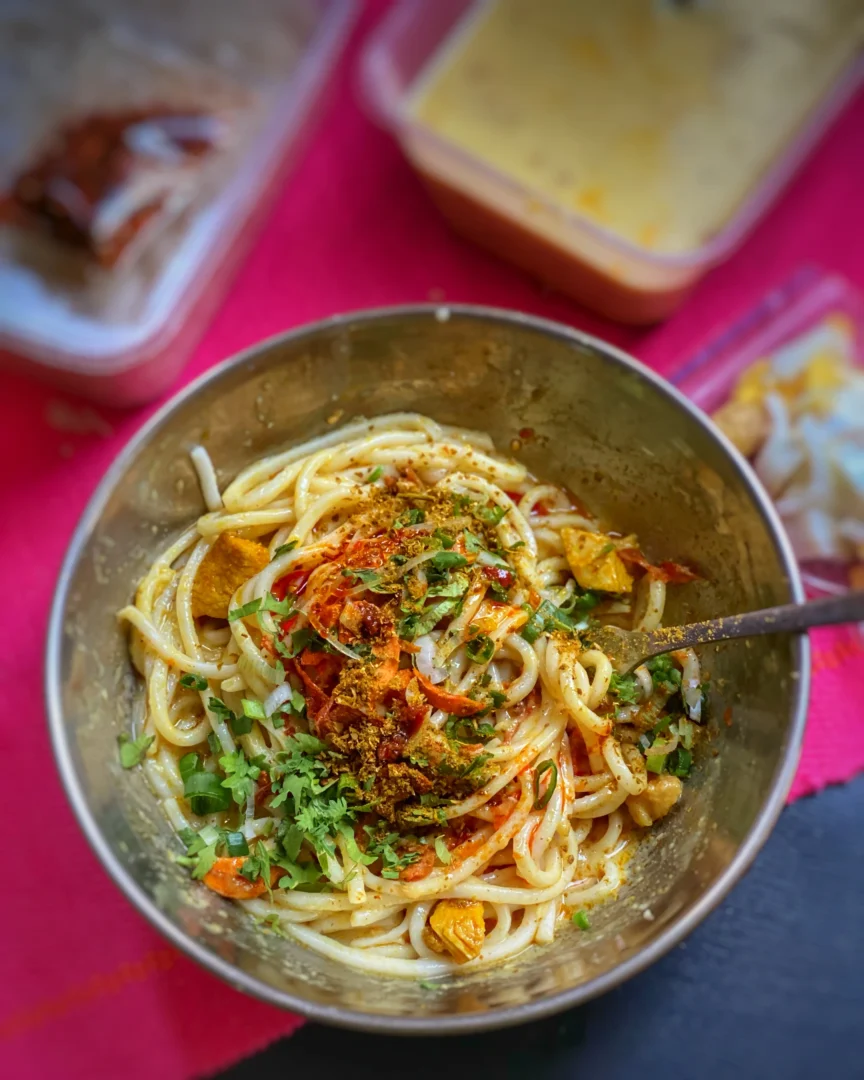 Saira Faruqi is probably the name that comes to everyone's mind every time khousuey is being discussed because this is one home based business that has consistency been doing good khousuey for years.
Their take also comes with a variety of condiments – what stands out: boiled eggs and cucumbers. Other condiments include: chilli oil, green onions, coriander, red chilli flakes, garlic crisps, lemon and fried crisps.
All the components come separately so you can assemble everything per your taste.
To order, WhatsApp on 0332 3204488.
Price: Rs 800 (delivery charges will apply based on your area)
4

Khousuey By

Karachi Tiffin Company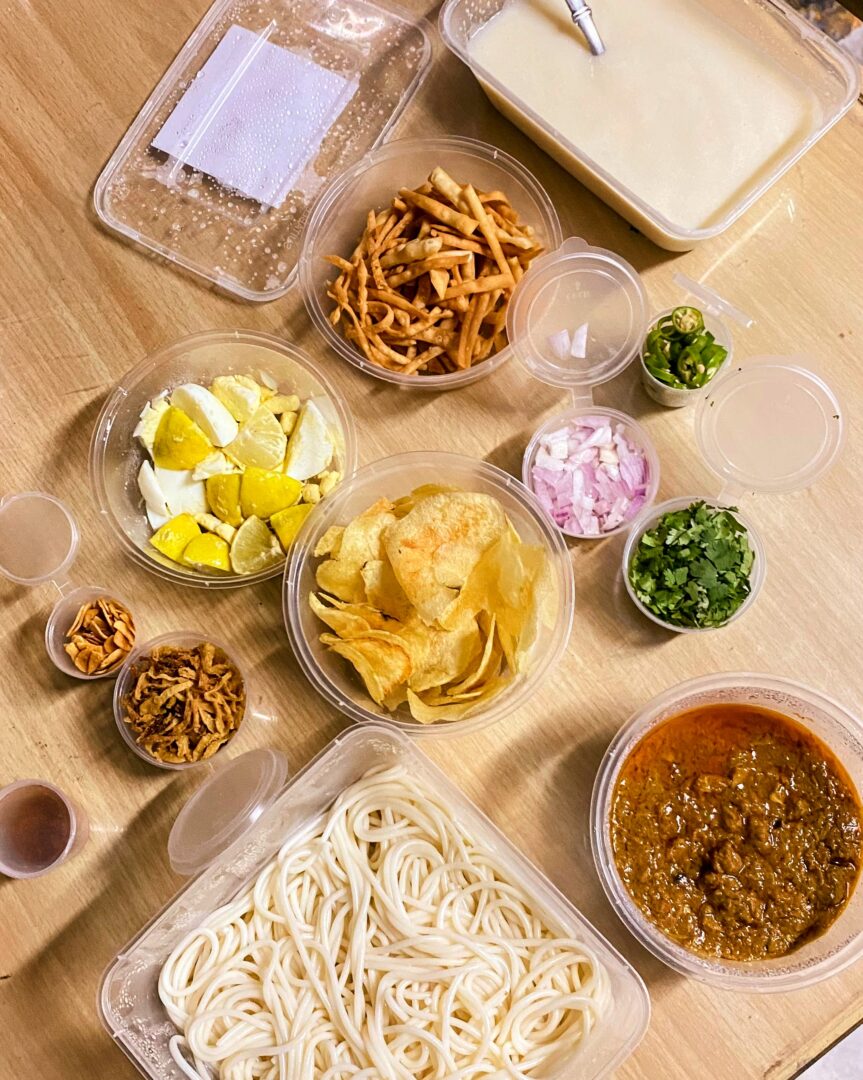 The first time I tried Karachi Tiffin Company's khousuey was at Mashion Bazaar. I wasn't very keen on trying them out because I already know my khousuey favourites by now and I saw them topping the khousuey with boiled eggs – which to be honest seemed a bit OTT. BUT – upon taking a bite for a video I was shooting – I found myself going back to the khousuey again and again. Later on, I ended up ordering it at home and can confirm: this is also a khousuey you need to try.
This particular rendition is closer to the burmese style – where the yellow curry is actually not yellow because it has no turmeric and it uses coconut milk as a base. However, what made the khousuey stand out for me was how rich the meat curry was – almost like a stew which really concentrated its flavours and made it stand out in the khousuey. 
This is without a doubt.a more meat-forward khousuey than the others on the list and therefore has more richness and overall umami. Definitely one of my favourites now. 
To order, WhatsApp on 0300 1710159.
Price: Rs 800 (delivery charges will apply based on your area)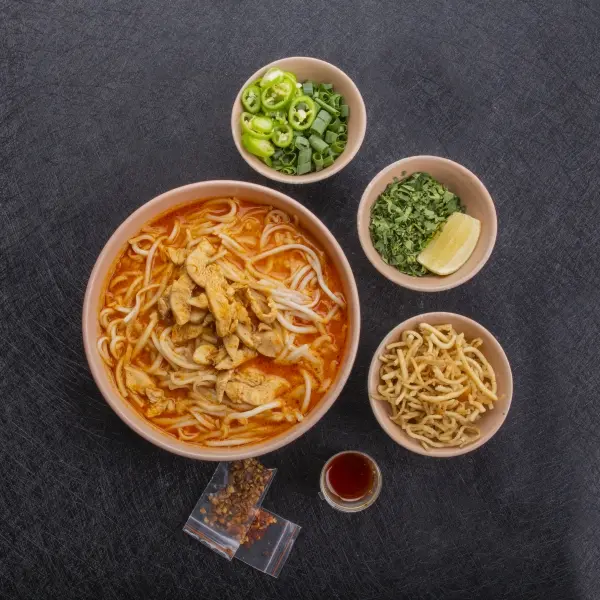 Ah the khousuey at Simple Dimple brings back memories but to say it is one of the best khousuey in Karachi would be wrong. It is convenient for sure. The yellow and chicken curry come already mixed and in the classic khousuey it actually tastes like you are having water and besan. The Thai Khousuey does have some flavour that you can further build upon with the condiments they send: coriander, red chilli flakes, crisps etc. 
Khousuey can be more exciting than this but when the craving hits and you don't want to wait a day, get Simple Dimple's Thai Khousuey.
Price: Rs 980 + Tax
So there you go, the list of places that are doing good (and decent) khousuey currently. Hope we find more!
Which one is speaking to you more? Let us know below.
To check out more food guides, click here