Karachi may not get a "fall" fall, but we do get fall desserts, because of course. And we are not complaining. This to begs the question though: What counts as a fall dessert? To us, it's anything that uses seasonal produce. Think: pumpkins, apples, bananas, pomegranates. Or spices, like cinnamon, nutmeg, cloves. OR nuts, like walnuts and pecans. Sometimes, a particular dessert could just remind you of fall without having ingredients from the above categories. It's definitely about the feeling. Always.
The Best Fall Desserts In Karachi [2022]
1.

Pumpkin Spice Latte by
Drop Coffee Bar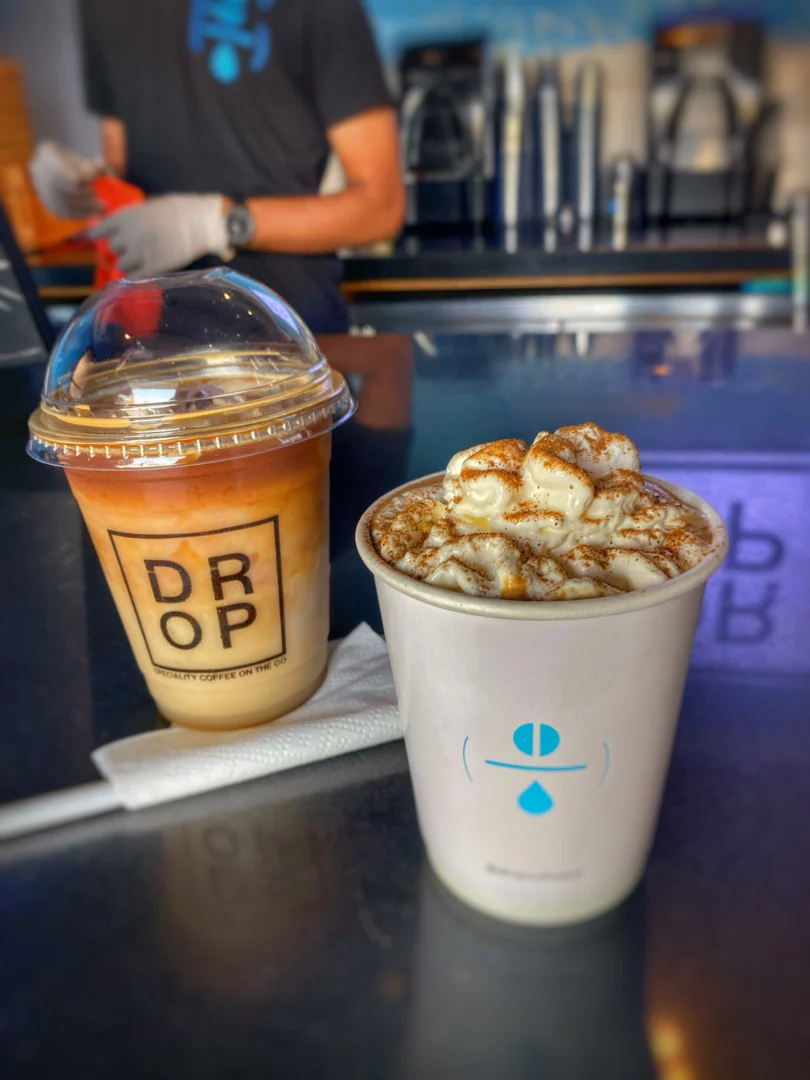 You can't have a "fall" list without mentioning pumpkin spice latte. This drink is the "hot chocolate" of this season. Pumpkin spice actually is a varied mix of different spices, namely: cinnamon, cloves, ginger and nutmeg. Anything with "pumpkin spice" is at once warm and aromatic without necessarily being "dessert sweet". It's a good way to add another flavour note to your usual latte.
Craving one? Get it from Drop Coffee Bar. It's available as iced or a hot latte or as a frappe.

2.

Pumpkin Pie with Clotted Cream
by Test Kitchen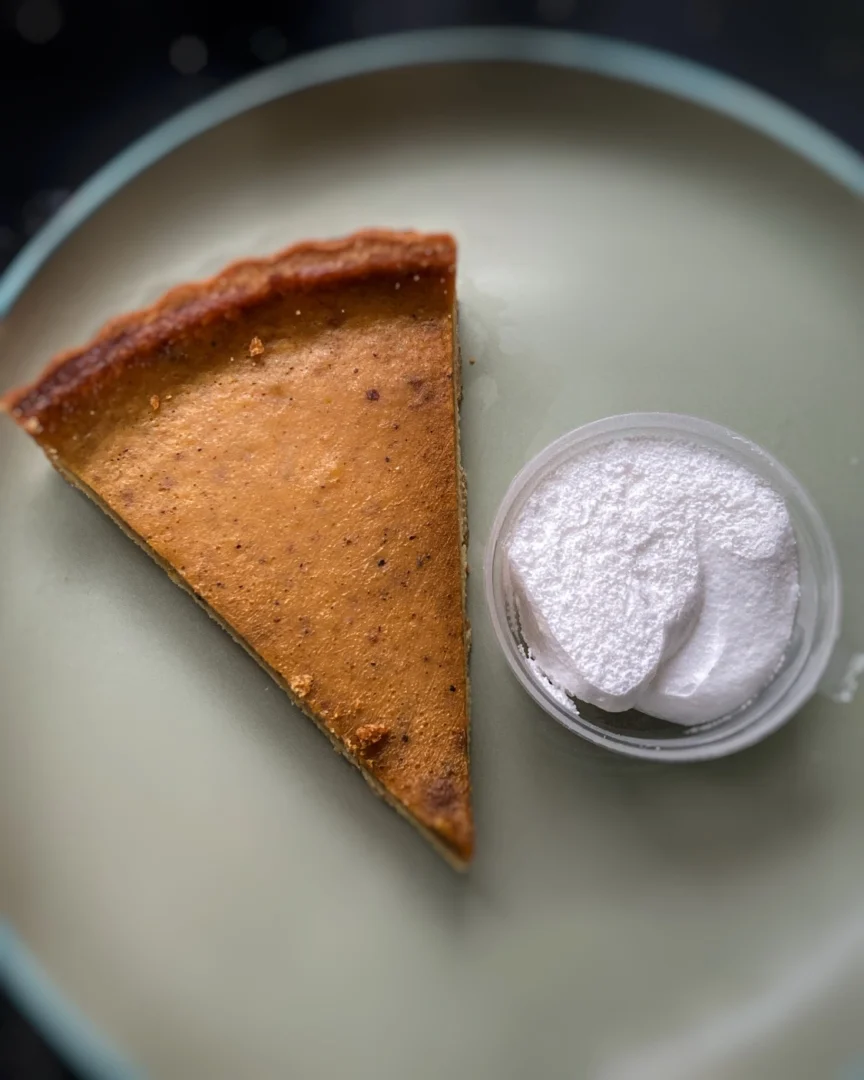 This dessert for me is why the concept of autumn exists in our head. It's everything that you would expect from a "pumpkin spice" flavoured anything but add to that the smooth texture and mild sweetness of the pie, along with the cool clotted cream alongside that adds richness and contrast. This is a dessert that would grow on you and will make you wait for fall all year round.
Get it from Test Kitchen.
Carrot cakes again are a great way to enjoy and appreciate the season. The cream cheese frosting, the crunch of the walnuts, the sponge cake layers infused with the sweetness and the bite of the carrots. Conceptually, the dessert makes little sense but the minute it enters your mouth, your mind goes like: This! This is the dessert I have been waiting to discover.
There are actually quite a few places that do carrot cakes in Karachi really well and luckily for you, we have a list. See here: The Best Carrot Cakes of Karachi
4.

Banana and Walnut Cake by
LoafOutLoud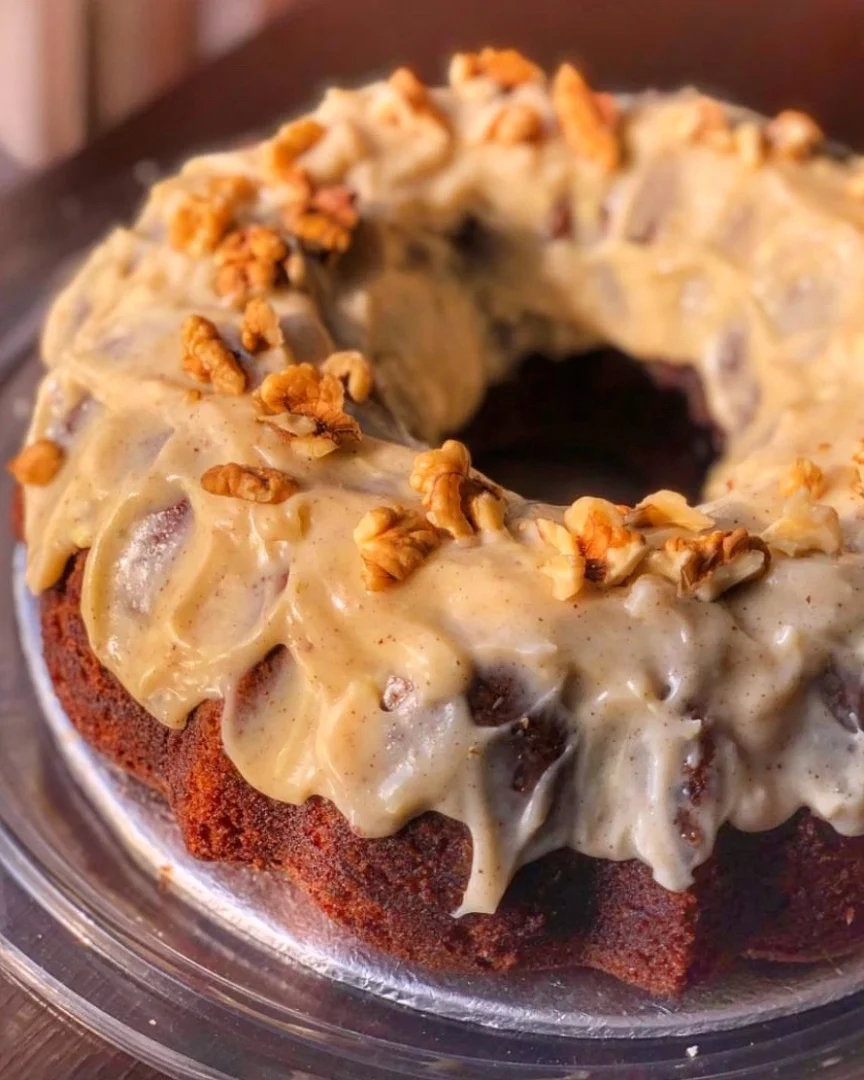 Speaking of walnuts and cream cheese frosting, this banana and walnut cake by LoafOutLoud is also magical. It is banana bread but seriously elevated. The texture, the contrast of flavours, the fact that it is NOT chocolate cake but you get addicted to it like it is. Unfathomable but also unputdownable. The kind you would just keep to yourself to finish over the span of a week. Just you and your cake.
Get it from LoafOutLoad on their Instagram.
5.

Apple Crumble with Ice Cream
by Espresso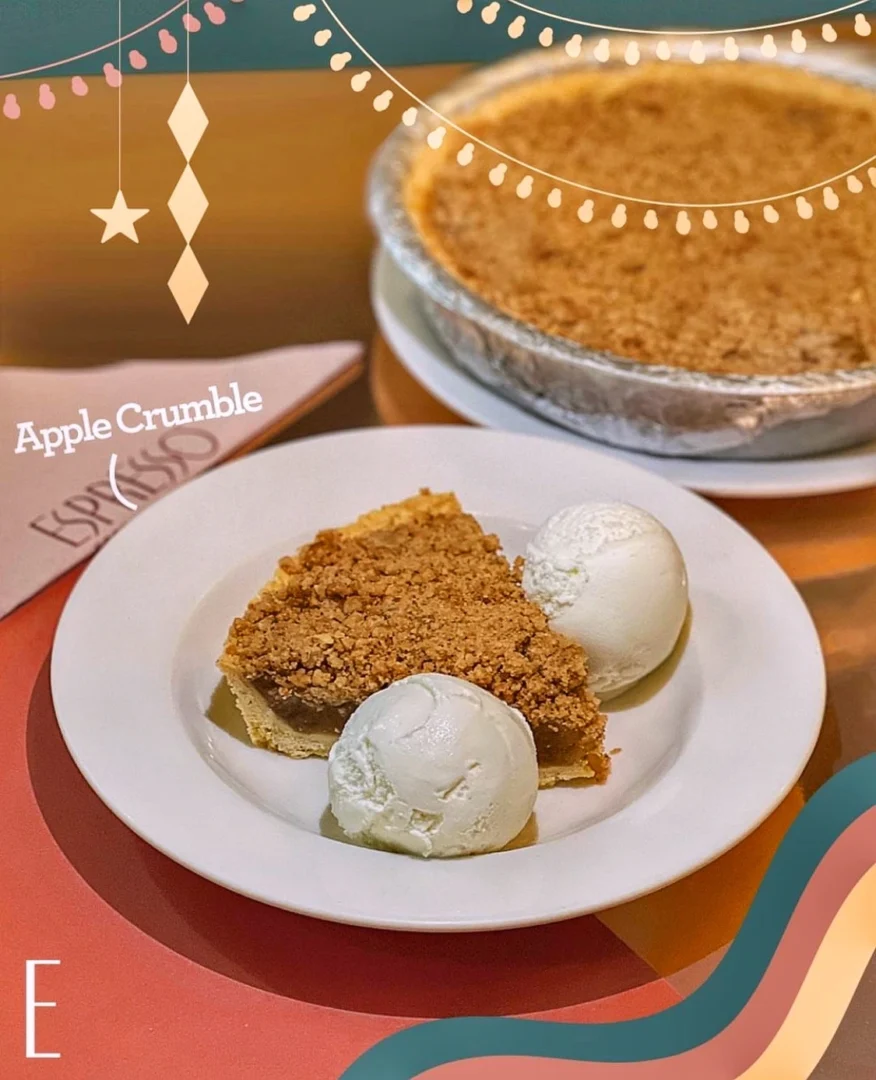 Anything that Espresso does is OG at this point because the place has survived major years in Karachi. This Apple Crumble with Vanilla Ice cream has to be the city's earliest memories of having an apple dessert. The apple crumble itself is warm and crumbly and when you pair it with their ice cream, it makes this beautiful bite that would convert you into being an apple dessert fan.
Get it from Espresso.
6.

Apple Pie French Toast by
YumByAmna Cafe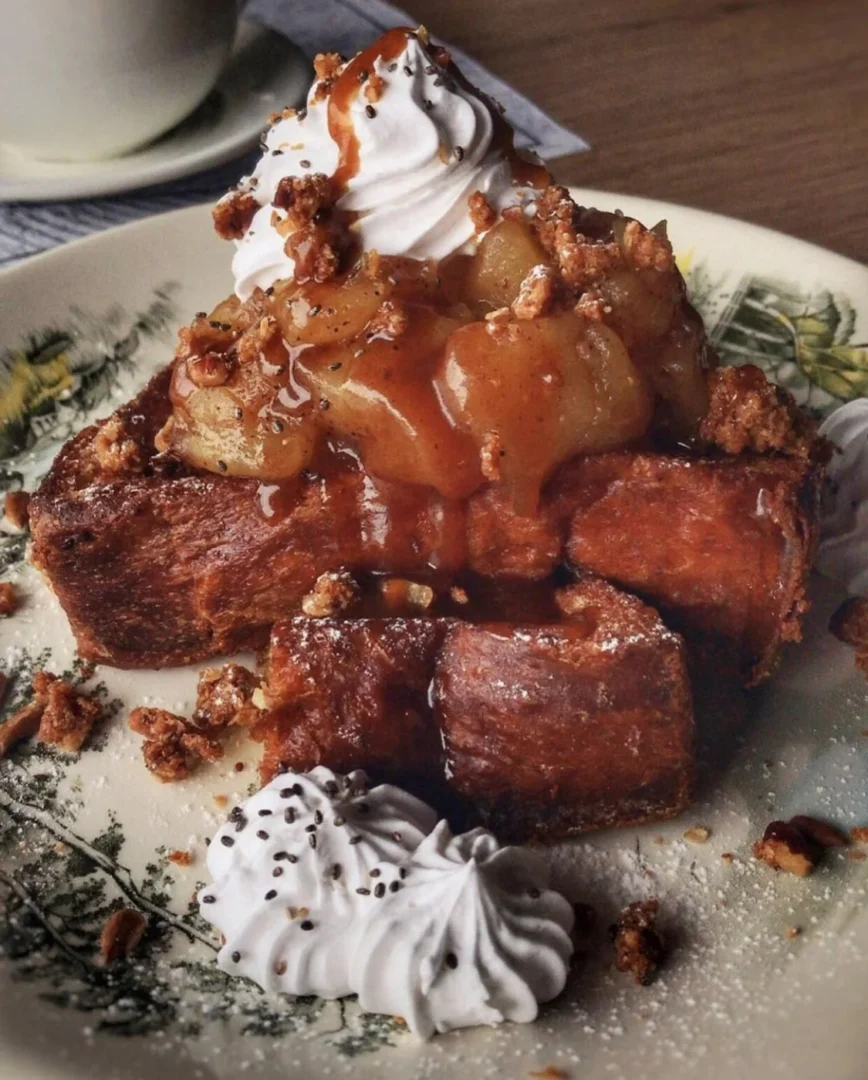 It is actually "apple pie" that is traditionally considered a fall dessert but this apple pie french toast adds oomph and well, french toast to the mix. What's not to like? The french toast on its own stands on solid ground with the right texture and sweetness but when topped with apple pie and pecan crumble and caramel – yep.
Get it from YumByAmna Cafe.
7.

Apple Streusel by
Schwarzbackerei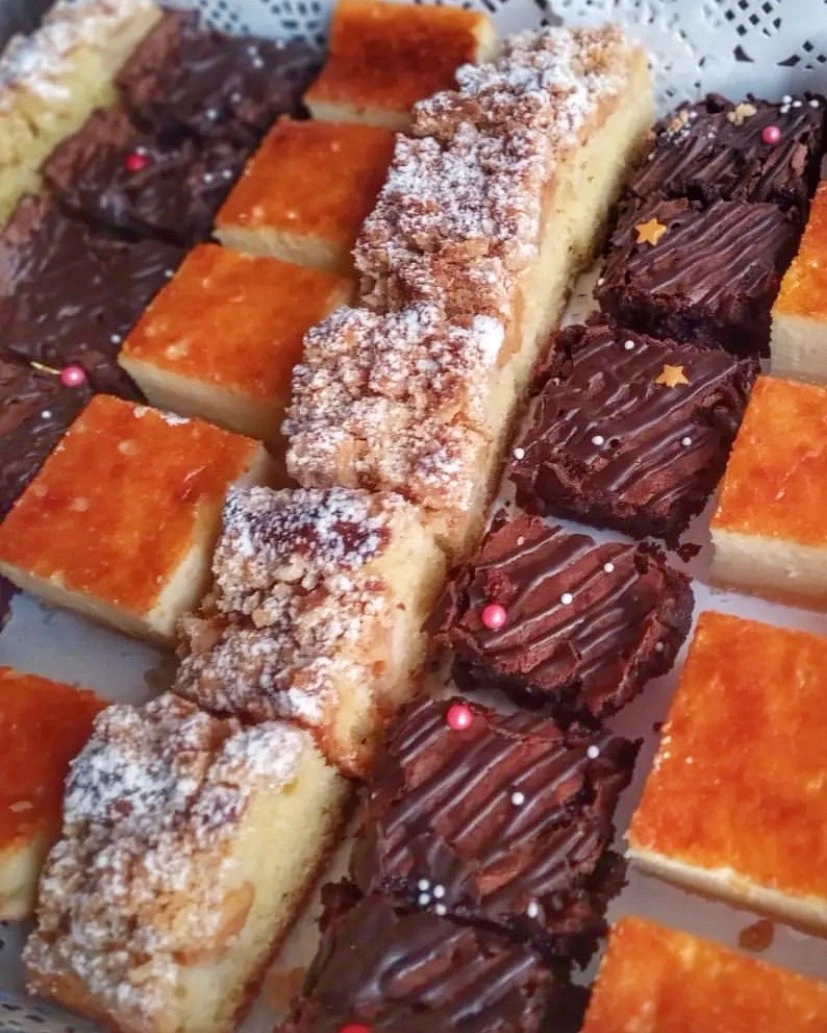 Streusel is actually a crumbly topping of flour, butter and sugar that can go over a cake. In this case, it goes over an apple cake bar. The result? A delightfully different and convenient dessert option that would make you want to have this everyday at tea-time.
Get it on Schwarzbackerei's Instagram.
8.
Basque Cheesecake
by Maapi's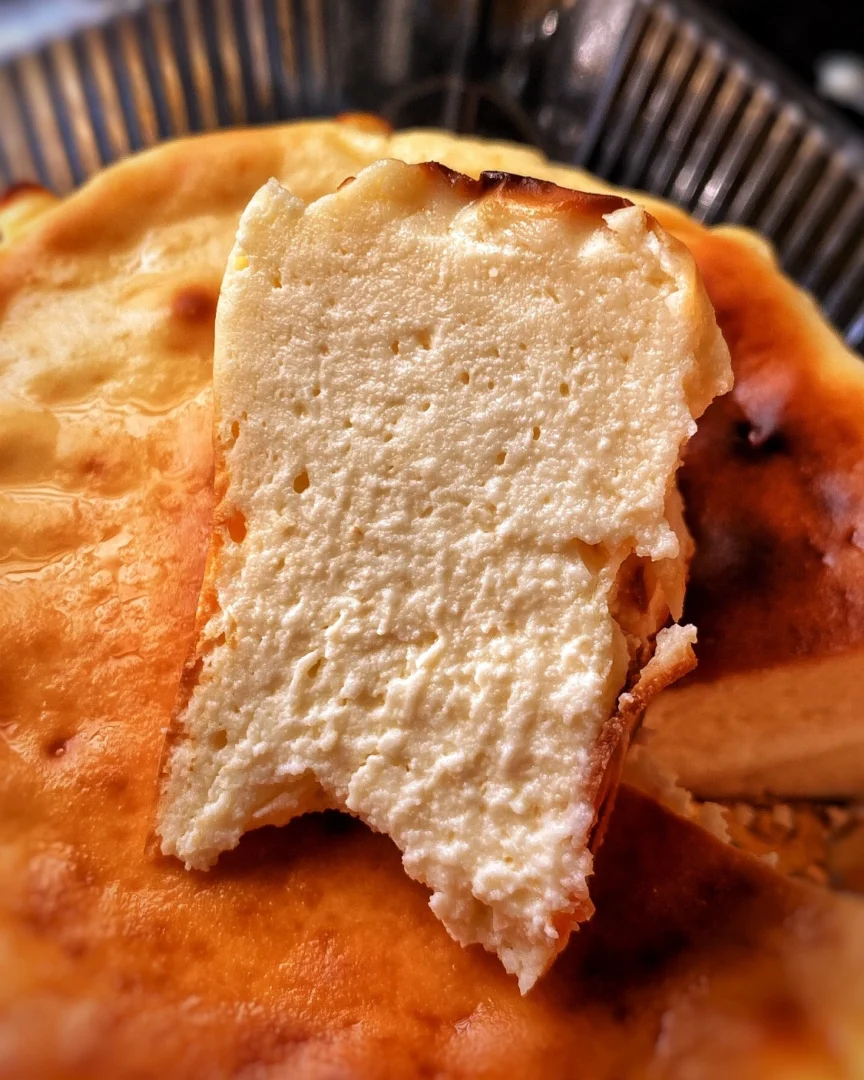 This basque cheesecake speaks "fall" for some reason. It's just the way it shows up for you. It doesn't remind you of summer or winters. it's fulfilling, mildly sweet, with a bright lemon tang that will make you salivate but it's the burnt caramel tones that puts it squarely into a fall dessert category.
One of our favourite cheesecakes to have. Get it from Maapi's on Instagram.
Read more: The Best Cheesecakes of Karachi.
9.

Caramel and Pecan Minibons
by Cinnabon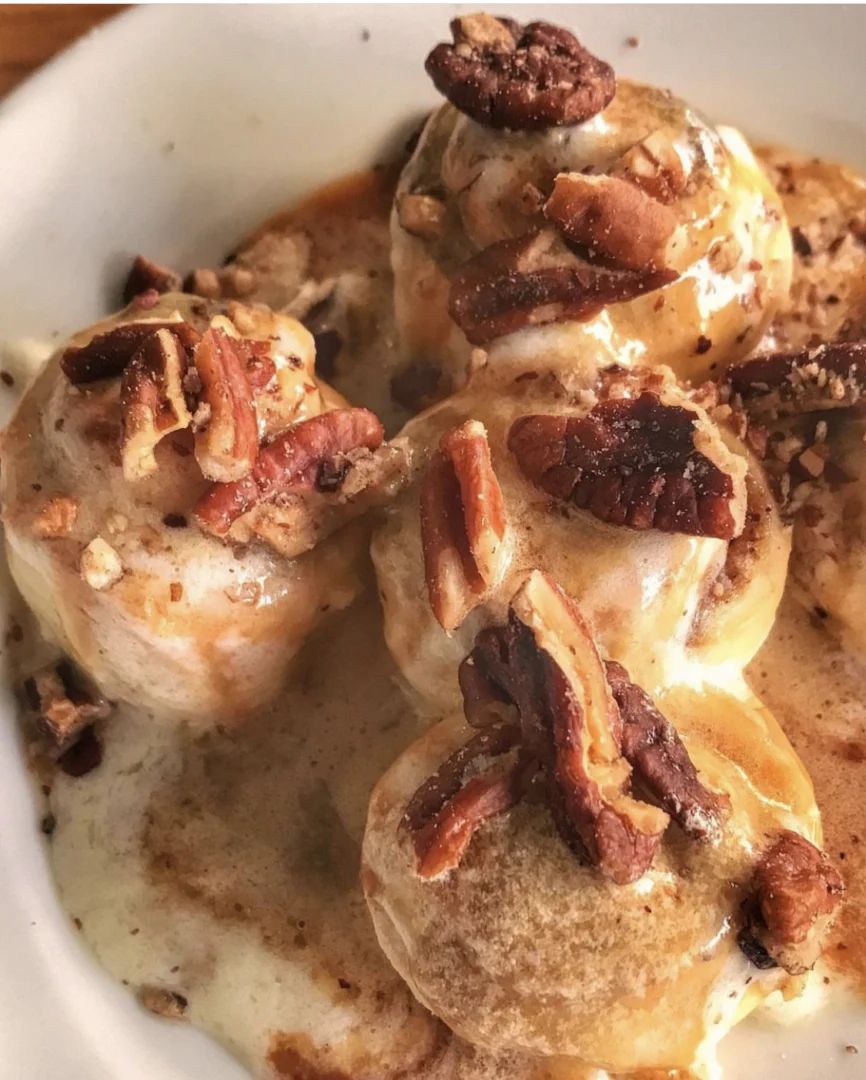 Cinnabon is not the first place you think of when you think of desserts that use seasonal produce. The rolls here are a sugary overload but these mini-bons make you want to make a deal with the devil. And they are topped with pecans and caramel. 
Get it from Cinnabon.
10.

Coffee Buns
by Kakes By Karimi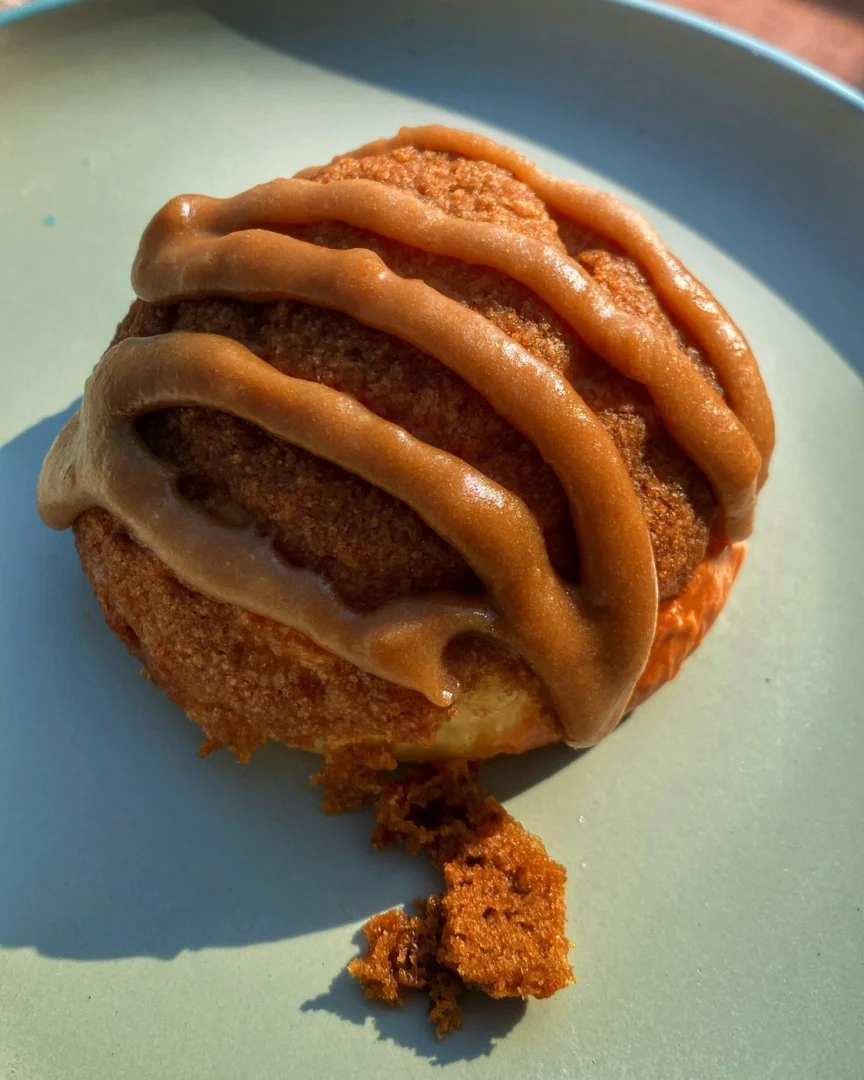 Everytime someone mentions Coffee Buns, your mind probably wanders to PappaRoti. However, this is not that one. For us, this is very reminiscent of the Coffee Cake from Bombay Bakery. Craving that? Get this!
So there you have it. A list of some of the fall desserts you can have in Karachi.
Which one is your favourite? Did we miss one that you'd like added? Let us know in the comments below!